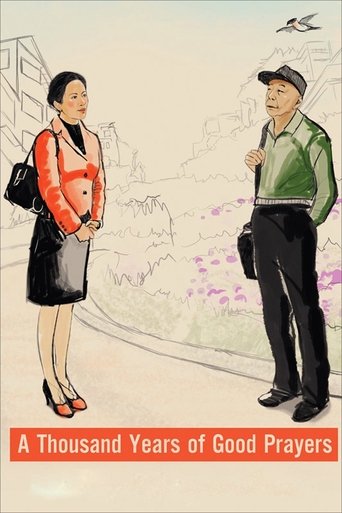 A Thousand Years of Good Prayers
un uomo parte dalla cina per andare a trovare la figlia che vive in america e che ha appena divorziato. sebbene il suo scopo sia quello di riuscire a far risposare la figlia, sara' proprio lui ad incontrare una donna iraniana che, nonostante le barriere linguistiche, riuscira' a conquistare il suo cuore.
Open in app open_in_new
info
The film follows Mr. Shi, a retired widower from Beijing. When his only daughter, Yilan, who lives in Spokane, Washington and works as a librarian, gets divorced, he decides to visit her to help her heal. However, Yilan is not interested. She tries keeping an emotional distance but when this finally fails she begins physically avoiding her father. He confronts her about an affair with a married Russian man and she, in turn, lets loose about all the gossip she'd heard as a young girl about his alleged affair with a female colleague back in China.
home
United States
domain
North by Northwest Entertainment